home > products
WTF-SERPROCESS5W/S
Second participant. Training workshop for White Toner printing. Samples and exercises not included.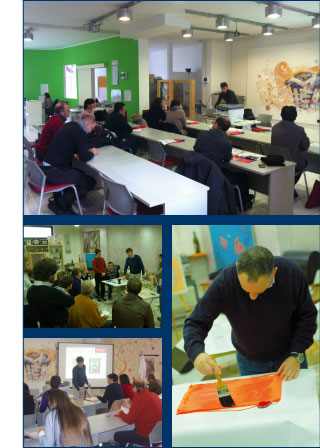 The White Toner Revolution has begun! Everything turns into white, including our workshops.
Our new Kit4com WHITE training course is dedicated to graphic experts, digital printers and graphic arts professionals willing to learn all there is to know about White Toner: from the functioning of the printer to the "white" personalization of any colored object.
Learn how to customize with white opaque graphics colored objects that were not possible to print with digital technology.

The training course includes:

A rich "white" collection of samples to take home

Precise instructions & information about the new White Toner OKI printers
Information concerning print files
Precise instructions and details about transfer papers for White Toner
Many exercises to learn all the application techniques

Great offers on transfer papers for the White Toner
WHERE: Shock Line Showroom - Via dei Gelsi 16/B Termoli - Italy
NOTE: The price includes two lunches and one dinner. Accomodation non included.
Partner hotel available.
N.B. These instructions are simply suggested, since they refer to tests performed in our laboratories. You should perform other tests on your own before any application. The producer will substitute any defective material, but is not responsible for any damage caused by improper use.
Printers compatibility: