home > products
FE WHITE 04
Transfer paper for colored fabrics - Plastisol feel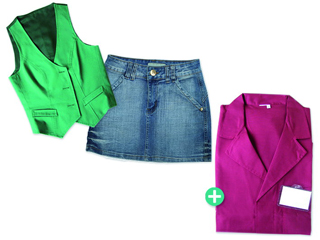 Transfer paper for colour laser printers and copiers - apply with heat-press
To personalise dark fabrics.
For black T-shirts, coloured natural and synthetic fabrics, patches for sportswear etc…
Bypass print - plastic feel - various fabrics

FE WHITE is a transfer paper made for printing on various fabrics and has a COVERING effect, therefore is the ideal for dark-coloured T-shirts, sportswear, etc.
FE WHITE must be used with colour laser printers or copiers and can be used DIRECTLY ON FABRIC WITHOUT HAVING TO APPLY A WHITE BACKGROUND.
Copy or print without "mirror effect" in thick paper or cardboard mode. Cut out the image and apply it as follows:

1) Take off the support paper from the film with care, avoiding to damage the picture.

2) Place the transfer paper (only the white cover film) on the garment, with the image facing upward.

3) Protect with anti-adhesive heat resistant tissue paper and then a sheet of normal paper.

4) Press for 10-20 seconds at 160 -180°C - high pressure, depending on the type of fabric and printer toner.

5) Remove the tissue paper only when COLD.

6) Machine wash at max. 30°C.

Note: FE WHITE is easier and faster to use compared to traditional types of covering backgrounds and is the ideal for complex drawings or pictures because once you get the copy or print you just cut it out and apply it on without having to fix 2 sheets on each other (background + print). Ideal for sportswear. Can be machine-washed.

Available in 50 sheet boxes in A3 size. A4 size available on request.
N.B. These instructions are simply suggested, since they refer to tests performed in our laboratories. You should perform other tests on your own before any application. The producer will substitute any defective material, but is not responsible for any damage caused by improper use.
Printers compatibility: