SELF WEEDING
FC TOPCUT is here! Try it...Itís yours for only Ä 35,00.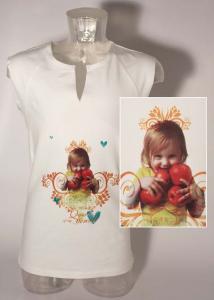 FC TOPCUT custom printed t-shirt
Shock Line is continuously evolving and dedicating research and development to the creation of new transfer papers in order to satisfy the most varied and creative requests of the market.


The result of months of work is an astonishing product with performances and features never reached before. FC TOPCUT, ​​the self weeding laser transfer paper with no background for cotton and natural light-colored fabrics. Itís a real innovation!


FC TOPCUT is TOP when it comes to self weeding
. Works with most oil/oil-less color laser printers, ideal for any kind of image or logo, great for airbrush drawings and any kind of nuance or shade effect.


The toner penetrates perfectly into the weave of the fabric leaving its appearance and feel unchanged and ensuring a soft screen print effect. Tshirts printed with FC TOPCUT have never been seen before. Itís what everyone was waiting for!


In order to ensure a perfect fixing of the toner on the fabric, FC TOPCUT must be used combined with a special paper (FC POLCREA). FC TOPCUT and FC POLCREA can be purchesed separately or together in an
affordable kit from only
Ä 35,00
. FC TOPCUT comes in 100 / A3 or A4 sheet boxes.


Furthermore the application of FC TOPCUT is user friendly. However Shock Line offers all the tools to make it simple and achievable for everyone. Detailed instructions and tutorials for proper use are available on our website.


Donít wait longer, buy FC TOPCUT and youíll have a unique product.


For more info

contact us

.
(On line 09/03/2012)