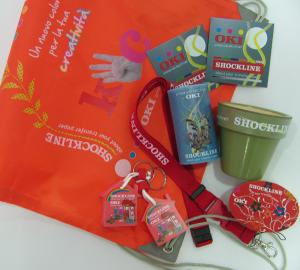 Examples of white covering prints

At the PTE (Promotiontrade exhibition, 16-18 January 2013) at our stand (F55-F57 Pav. 3) we will present the new revolutionary White Toner

technology

created

to customize with white covering graphics many colored objects in a wide range of materials.

It's unique and it's about digital/led color laser printers with White Toner. They are fast, flexible and affordable and combined with special transfer papers they offer an alternative to screen printing. White screen printing becomes digital and the entire custom printing world will change. Our stand will be entirely decicated to digital White.


You will:



Companies in the promotional and advertising world shouldn't miss this opportunity. They will discover high quality/low cost machines, products and solutions ideal wherever white decorations are required.
We will expose gifts, models, metal plates and glass gadgets, leather, coated and plastic materials, packaging and colored clothing, all customized with our Shock Line transfer papers for White Toner.



You will also see

backpacks

, purses, pass collars, menu folders, business card holders and leatheror synthetic leather objects and many fabric promotional articles. Until now, classic white lettering on these items was possible only with screen printing or sublimation... but not anymore.

There will also be a promotional and fashion wear corner. A true revolution has swept this area. Due to the simplicity and speed of the new machines and to Shock Line solutions for White Toner, printing on a colored shirt is easy and the results are extraordinary.


We will offer a great opportunity to all those

companies

that require products with

one common denominator: the ability to "color with white" infinite colored objects.

Vist our stand F55-F57 Pav.3. Two super offers are waiting for you.