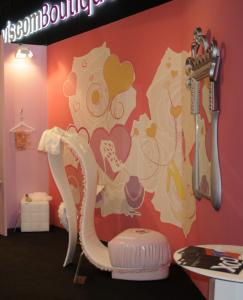 An example of the new FRESCO application
PS Fresco is Shock Line's decal
for decorating internal and external walls, wood, marble, stone...Ideal for almost any absorbing surface.

It's an international patent wall decal which does not leave any sort of film on the surface. Colors simply penetrate "inside" the wall giving a classical "affresco" effect.

PS Fresco

combines the charm and the typical characteristics of classical "affresco" techniques to the flexabilty of digital technology.

It does not change the wall's features and can be used together with other decorative products.


Now there are two sensational news
re
garding our PS Fresco wall decal:
lower prices and a new application process.
Our new production processes and PS Fresco's increased sales and world-wide success has allowed us to apply truly reduced prices and our technical staff has invented a new user-friendly application process. In two hours your fresco will be ready. This is real step ahead in wall decoration.

You get astonishing results in a very short time thanks to PS Fresco's compatibility with many products including adhesives.
We've tested one the most popular wall paper glues on the market (Ovalit T by Henkel) and it works perfectly with our transfer. You still get a perfect "affresco" effect with no film on the wall and in just a couple hours.


Here are the instructions:
Prepare the wall with a coat of filler

Prepare a solution made of 2 parts of Ovalit T and 3 parts of water and apply on the wall

Place the printed sheet of PS Fresco on the wall and remove air and water bubbles with a roller
Make sure no air bubbles remain under the sheet by hitting it with a brush


After 2-3 hours wet the sheet with water and remove

Clean the decoration with water and wait till dry

Apply protective paint
If the decoration consists of several panels, before the application you will need to place all the printed PS Fresco sheets which make up the entire image on the wall with tape and make pencil refernece marks useful for the repositioning in the later stages.
Now just look at our video tutorial.